Andy Biggs was elected to serve the people of Arizona's Fifth Congressional District in 2016. He currently sits on the House Judiciary Committee and the House Science, Space, and Technology Committee where he Chairs the Subcommittee on the Environment.
Prior to his election, Andy served in the Arizona's State House of Representatives for eight years, and in the Arizona State Senate for six years. In 2012, Andy was elected by his colleagues to lead their caucus as Senate President.
Andy's record in the Arizona legislature earned him the "Champion of the Taxpayer" award from Americans for Prosperity, and he has been honored numerous times by the Goldwater Institute as a "Friend of Liberty."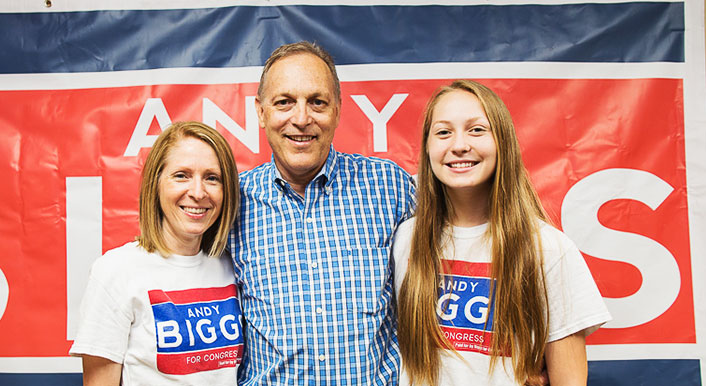 Andy is a retired attorney and is licensed to practice in Arizona, Washington and New Mexico. He received a B.A. in Asian Studies from Brigham Young University, his M.A. in Political Science from Arizona State University, and his J.D. from the University of Arizona.
An Arizona native, Andy and his wife, Cindy, have lived in Gilbert for the past 35 years. They are the proud parents of six children and the grandparents of four grandchildren.